Posts Tagged 'fall in love with fall'
Monday, September 17th, 2012
10 Things to Make You Fall for Fall All Over Again 
Scarves: Yes, scarves of all kinds. Cashmere, cable knit, chunky, orange/red/yellow/blue/gray and the list goes on and on. There's nothing like a fall scarf to complete your cool look and add some accent colors to your light jacket or shirt.
Burning Star Scarf, Made in Italy. Wool, silk, cashmere. 
Boots: Boots were made for walking and that's just what you should do. Take a long hike on a trail, up by the river, or spend a day walking around the concrete jungle just looking stylish.
Whiskey, manhattan, break out the bitters: Ah, yes. The time has come to break out the 25 year aged whiskey and make yourself a Manhattan. So break out the bitters, wrap yourself in a new scarf, and enjoy the cool, long evenings.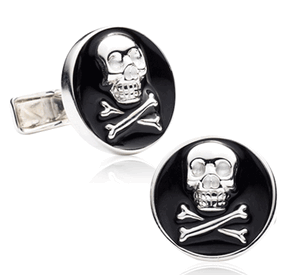 Enamel Skull and Crossbones Cufflinks
The season premiere of American Horror Story: It feels like years has passed since the last episode of American Horror Story. We're still loyally hooked, almost a year later, and the scary fun will begin on October 17th. Are you ready?
Sterling Pumpkin Cufflinks
Doggie Jackets: As much as we like to brush it off as obnoxious, we love seeing those cute little pups in doggie jackets. Sure, they have their own coat straight from God, but why not add a little fall festivity to your dog too? After all, they like a little wrap around scarf too.
Sterling Chihuahua Cufflinks
More to the imagination: Let's face it, beautiful sun kissed skin comes peaking out in the summer months and yes, we love it. But we also like to leave a little to the imagination too. Women look sophisticated, alluring, and extra sultry in the fall, and it has nothing to do with a bikini and suntan lotion. What does she have going on under that peacoat, gray tights, and books?
 Plaids: We look extra rugged in a nice strapping plaid shirt, plus it reminds us of the great outdoors, roasting things over a fire, Octoberfest beer, and fall parties in Brooklyn.
Beards: Nothing say "I'm a man's man" like an overgrown burly beard.
Football Season: Jerseys, fantasy football, beer, and ultra-loaded nachos.
Baltimore Ravens Cufflinks and Tie Bar Gift Set
Hearty Food: Haven't you missed those home beef stews, pumpkin and banana bread, warm milk in the evenings with chocolate, and a nice juicy steak with potatoes? It's all fall food baby.