Posts Tagged 'fall fashion'
Friday, November 8th, 2013
Fleece-Lined Field Coats by LL Bean are just the thing for this season. Show up to Thanksgiving dinner, with the customary bottle of wine, green bean casserole, sporting this warm fall-inspired outerwear. The cool thing about their products is that you can return/exchange them at anytime, for any reason.
And of course, any well dressed gentlemen should come to the dinner table with a crisp white cotton button down. With or without a tie, pair your basic button down with LL Bean's Lambswool Vest, as shown above. And don't forget a simple, warming pair of Silk Cufflinks, colored and ready to go for all your fall ready to wear ensembles.
s
If you're not too proficient in the kitchen arena and are strapped for time on the big turkey day to prepare something to bring for dinner, consider gifting one of these chef-inspired Tie Clips like the one below. Under $40, this Stainless Steel Pebbled Spoon Tie Clip is the perfect culinary accessory for the fashion conscious gentleman.
Remember to add a splash of color and texture with each outfit. The dark autumnal hues of the season are always a no-brainer, but keep texture in the back of your mind too. These Butterfly Wings Cufflinks add that graceful touch of texture whilst adding a burst of popping color to your arm sleeves.
Monday, October 1st, 2012
Forrest Gump is a 1994 American epic comedy-drama romance film based on the 1986 novel of the same name by Winston Groom. The film was directed by Robert Zemeckis, starring Tom Hanks, Robin Wright, Gary Sinise and Sally Field.
Waving American Flag Silver Cufflinks
The story depicts several decades in the life of Forrest Gump, a naïve and slow-witted yet athletically prodigious native of Alabama who witnesses, and in some cases influences, some of the defining events of the latter half of the 20th century; more specifically, the period between Forrest's birth in 1945 to 1982.
Let's face it. Not only did Forrest Gump's life effect ours, but so did his fashion. His clean cut, crisp looks captured the hearts of Americans everywhere and we still use his throwback looks today. Maybe it's time to take a hint from Mr. Gump and re-modernize his fashion?
 Modernize the look
Take this simple collared shirt from H & M in a grey color and pair it with jeans (like in the photo). You'll be more an urban, fashion-conscious Forrest.
Shirt from H & M $29.95
Modernize the look:
We especially love the blazer in the scene where Gump's waiting for the bus. This new modern winter spin on the jacket can be found from Urban Outfitters. And of course, you have to get yourself a pair of running shoes from Nike, so you too can "run like the wind blows."
GENERAL ASSEMBLY FIELD BLAZER $182.00 from Urban Outfitters
Modernize the look:
It's true that Forrest went through many stages in his life and one of them was a stint in Vietnam. But even while trekking through the jungle, Gump has inspired us with his rugged, manly look. Pair these Army Helicopter Cufflinks with rugged work boots this season, like these from Doc Marten's called the Men's Pier Boot for under $149.
Army Green Huey Helicopter Cufflinks
Monday, September 17th, 2012
10 Things to Make You Fall for Fall All Over Again 
Scarves: Yes, scarves of all kinds. Cashmere, cable knit, chunky, orange/red/yellow/blue/gray and the list goes on and on. There's nothing like a fall scarf to complete your cool look and add some accent colors to your light jacket or shirt.
Burning Star Scarf, Made in Italy. Wool, silk, cashmere. 
Boots: Boots were made for walking and that's just what you should do. Take a long hike on a trail, up by the river, or spend a day walking around the concrete jungle just looking stylish.
Whiskey, manhattan, break out the bitters: Ah, yes. The time has come to break out the 25 year aged whiskey and make yourself a Manhattan. So break out the bitters, wrap yourself in a new scarf, and enjoy the cool, long evenings.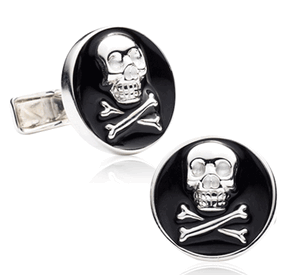 Enamel Skull and Crossbones Cufflinks
The season premiere of American Horror Story: It feels like years has passed since the last episode of American Horror Story. We're still loyally hooked, almost a year later, and the scary fun will begin on October 17th. Are you ready?
Sterling Pumpkin Cufflinks
Doggie Jackets: As much as we like to brush it off as obnoxious, we love seeing those cute little pups in doggie jackets. Sure, they have their own coat straight from God, but why not add a little fall festivity to your dog too? After all, they like a little wrap around scarf too.
Sterling Chihuahua Cufflinks
More to the imagination: Let's face it, beautiful sun kissed skin comes peaking out in the summer months and yes, we love it. But we also like to leave a little to the imagination too. Women look sophisticated, alluring, and extra sultry in the fall, and it has nothing to do with a bikini and suntan lotion. What does she have going on under that peacoat, gray tights, and books?
 Plaids: We look extra rugged in a nice strapping plaid shirt, plus it reminds us of the great outdoors, roasting things over a fire, Octoberfest beer, and fall parties in Brooklyn.
Beards: Nothing say "I'm a man's man" like an overgrown burly beard.
Football Season: Jerseys, fantasy football, beer, and ultra-loaded nachos.
Baltimore Ravens Cufflinks and Tie Bar Gift Set
Hearty Food: Haven't you missed those home beef stews, pumpkin and banana bread, warm milk in the evenings with chocolate, and a nice juicy steak with potatoes? It's all fall food baby.
Sunday, August 5th, 2012
Make the transition into fall run just a tad bit smoother. You have four weeks, gentlemen. Get moving.
Get just a few new accessories. "But which ones?" you ask. Ah, that's the question. Simply the simple staples…
1. One long sleeve shirt (preferably the kind with buttons on the top so that you can wear it as an under shirt and outdoors on a cool fall morning).
 Slim broken-in henley $34.50 from JCrew
2. New casual boots. Hip, possibly brown, and lace up. Maybe even buy the kind from Aldo that look slightly worn and "broken in."
NORMINGTON Boots by Aldo (Sale $62, marked down from $150)
3. One new pair of cufflinks. For the transition, of course…
Aymara Country Sky Butterfly Cufflinks
Aymara Green Tea Leaf Butterfly Cufflinks
4. One new pair of jeans. Get your denim on. And not the "mom" jeans either, spend a little extra to make sure they are soft, fit you perfectly, and have a slight fade action going on.

J Brand "Kane" Slim Straight Leg Jeans in Boones Wash
5. A new book bag/work bag. Remember the days right before a new school year when your mother would take you to JcPenney, the Mall, or even Sears to pick out your school supplies? You'd always wind up with, at least, one new book bag, new pens/pencils, a lunch box, and shoes. Treat yourself to a "Grown Up" Version of Your School Bag. Enter "The Work Bag." It'll make you feel refreshed for the new season and maybe you'll be excited to tote it to work. If you buy it in the next few weeks, make sure not to wear it until the first cold breaks. Seeing it around your house, looking cozy and waiting for the crisp air, will get you pumped for fall.
6. Dry clean your light jacket. That's right, take it out of the box in the closet, don't even bother dusting it off, and drop it off at the closest dry cleaners. It may be in the 90s now, but in a few weeks, you'll be extra prepared with a nice, clean fall jacket.