Posts Tagged 'Fall Cufflinks'
Monday, September 17th, 2012
10 Things to Make You Fall for Fall All Over Again 
Scarves: Yes, scarves of all kinds. Cashmere, cable knit, chunky, orange/red/yellow/blue/gray and the list goes on and on. There's nothing like a fall scarf to complete your cool look and add some accent colors to your light jacket or shirt.
Burning Star Scarf, Made in Italy. Wool, silk, cashmere. 
Boots: Boots were made for walking and that's just what you should do. Take a long hike on a trail, up by the river, or spend a day walking around the concrete jungle just looking stylish.
Whiskey, manhattan, break out the bitters: Ah, yes. The time has come to break out the 25 year aged whiskey and make yourself a Manhattan. So break out the bitters, wrap yourself in a new scarf, and enjoy the cool, long evenings.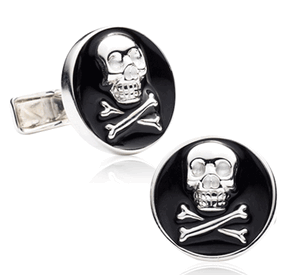 Enamel Skull and Crossbones Cufflinks
The season premiere of American Horror Story: It feels like years has passed since the last episode of American Horror Story. We're still loyally hooked, almost a year later, and the scary fun will begin on October 17th. Are you ready?
Sterling Pumpkin Cufflinks
Doggie Jackets: As much as we like to brush it off as obnoxious, we love seeing those cute little pups in doggie jackets. Sure, they have their own coat straight from God, but why not add a little fall festivity to your dog too? After all, they like a little wrap around scarf too.
Sterling Chihuahua Cufflinks
More to the imagination: Let's face it, beautiful sun kissed skin comes peaking out in the summer months and yes, we love it. But we also like to leave a little to the imagination too. Women look sophisticated, alluring, and extra sultry in the fall, and it has nothing to do with a bikini and suntan lotion. What does she have going on under that peacoat, gray tights, and books?
 Plaids: We look extra rugged in a nice strapping plaid shirt, plus it reminds us of the great outdoors, roasting things over a fire, Octoberfest beer, and fall parties in Brooklyn.
Beards: Nothing say "I'm a man's man" like an overgrown burly beard.
Football Season: Jerseys, fantasy football, beer, and ultra-loaded nachos.
Baltimore Ravens Cufflinks and Tie Bar Gift Set
Hearty Food: Haven't you missed those home beef stews, pumpkin and banana bread, warm milk in the evenings with chocolate, and a nice juicy steak with potatoes? It's all fall food baby.
Thursday, August 23rd, 2012
Words cannot describe McQueen's new Fall 2012 Collection. Just watch…
Straight from the mouth of GQ magazine contributor Matthew Sebra: "Sarah Burton's Fall 2012 collection for the house of McQueen celebrated one of the brand's hallmarks, razor sharp tailoring, and to let guys experience the roped shouldered goods beyond a traditional lookbook the brand put together the above clip. It's traditional Savile Row menswear meets signature McQueen plays on proportion and pattern and loaded with natty rigs a stylish (and loaded) man could use."
If fashion could evoke one emotional reaction from deep within our tough manly exteriors, McQueen's Fall 2012/Winter Sneak Peek would make us cry. Literally, sob, because of it's sheer beauty, er, um…we meant because of its coolness and yeah, it just looks good.
Here are some of Cufflinksman's Favorite Looks, coupled with our (much more affordable, but still as stylish) accessories:
Alexander McQueen Fall 2013 Bluette Wool Suit Jacket, Wool and mohair blend 1-Button suit jacket; fully lined and double vented, $1,695
AKA The Perfect Over Jacket paired with the perfect cufflinks from LOMA
Alexander McQueen Fall/Winter 2013
We especially love the detailing on this sweater! It really primes the look for the pivotal transition between fall and winter. The tailored, clean blue suit brings out the "rustic" qualities in the sweater too.
Pair this look with these English 6-Pence Hand Painted Coin Cufflinks for only $139
Alexander McQueen Fall/Winter 2012
Sand Cashmere Double Breasted Coat, Fine woven cashmere double-breasted coat with single vent and tortoise shell buttons: fully lined. $2,395
English 20-Pence Hand Painted Coin Cufflinks, $138
Aubergine Satin Pants: Satin trousers with 19 cm width leg; trousers feature signature Alexander McQueen branded ribbon inside waistband and concealed zip and button closure – note, trousers are not lined and are sold unhemmed. $695
Alexander McQueen Fall 2012, $1,120
Black velvet waistcoat with flower embroidery and 3 silk satin covered buttons to close: adjustable gun metal buckle at back.
Steel Pebble Spoon Tie Clip (Under $50!)
And lastly, this BAG is amazing:
Black Demanta Tote, $1,450
We know you want to know more about this bag, so here ya go:
City leather top-handle demanta tote with leather trim border and leather Alexander McQueen stamped plaque with fold-down magnetic button flaps. Features small gold finish brass stud detail and wide double zip opening with leather pulls. This bag is cotton canvas lined and has an interior zip pocket.
Monday, October 24th, 2011
The joy of coffee. The joy of the early morning sunrise. The joy of screaming children on their way to school. The beatific sounds of construction and traffic. The wondrous burnt bagel you received from Fred. The joy of wearing two different colored socks unbeknownst to you. The joy of the slow stagger in your walk….Good morning Monday!
Sometimes the monotony, or even busyness, of each week can become unbearable. Everyone talks about how stress can cause severe physical problems: fatigue, heart trouble, circulatory problems, and even cancer. There are many little things you can do throughout each day to counter the effects of stress and add little drops of goodness to your life.
1. Drink tea…slowly. Most of us hastily drink down our coffee or tea throughout the day, not taking our time in our consumption. Try this: brew some hot tea, either at work or home. Make sure your alone for at least ten minutes and if you are not, put on your headphones and tune out the world. The Japanese believe that tea drinking is a spiritual, zen activity, and so it is. While pouring the water in the glass, concentrate on slowing down time, visualizing the water as a cleansing agent, and transport yourself somewhere calm. Take long, deep sips of the tea. Think about the tastes, visualize light in your head and all around you. After ten minutes of this, you will undoubtedly feel much more relaxed and in tune with yourself.
2. Open your jaw for three minutes. That's right. If you have a headache or tension in your body, believe it or not, we hold most of our tension in our jaws. It's an extremely powerful muscle, used all throughout the day in talking, eating, chewing, grinding…Give it a break. The best part is, this can be done alone or in public. But you may look a little funny: Sit with your mouth slightly ajar for three minutes straight. Don't completely lock your jaw in an open position, but let your jaw just hang there, let your tongue drop out a little. After about an entire minute, we promise you'll feel different! This simple activity is so relaxingly powerful, you'll thank us 🙂
3. Instead of coming home to action packed TV or movies, try watching an old childhood film or cartoon favorite like superman movies.. It will instantly calm you, remind you of the inherent relaxation in childhood, and bring back warm memories. You may even forget the deadline for tomorrow and the next day and just focus on the colors, memorable songs, lines…etc. There's absolutely nothing wrong with relishing in our favorite cartoons.
4. Once a day, turn off the phone and internet. Literally. After reading this even! Literally shut down your fancy phone so you don't even see the pulsing lights and close your laptop. Science has recently shown that our brains are literally re-wired through the excess of technology–the constant beeping of phones, trains, computers, emails….sometimes we just need a break. Once a day, everyday, let the world know you will be unreachable for two hours. There is so much freedom in this simple activity, almost like taking a quick mountain hiatus in your daily routine.
5. Go outside and play your favorite sport. Even if it's just for fifteen minutes. It will get your blood pumping, release "happy" endorphins in the brain, and release pent up stress, anger, and energy. Plus you'll sleep better and get your metabolism going.
Thursday, October 20th, 2011
You are what you wear. Or at least what you put on your feet. Not long ago, an individuals' livelihood was directly dependent upon keeping their body safe from nature's harsh elements. A good pair of shoes to 'weather the storm' was a necessity for survival and unsurprisingly, it still is. This season the  rustic, rugged, yet modernized hiking boot is back. Here are a few examples of the hottest trends for your toes this season:
1. Otadan boot from Aldo shoe stores. Actually, they have an entire line of casual boots that pair wonderfully with jeans, dress slacks, and even hiking gear. They won't positively break the bank either, starting at around $150.
Pair this suave, rugged boot with a symbolic adornment from nature. You can take the great outdoors with you to that business meeting or unwanted weekend shopping trip with the wife. If you can't have a fishing pole, a six pack, and a bon fire on a fall evening, you might as well take the woods with you:
2. Next up we have possibly the best boots made in America: LL. Bean 's Beanboot with Thinsulate. The great thing about this type of boot is not only is it completely functional and stylish, but it is also hand-made in Maine. The can take a heavy mud beating, get rained on, and scrapped by unforgiving pavement, but they still protect your feet. You can also get them insulated with sheep's fur for a slightly higher price. The BEST part is…wait for it…if at any time, with or without a receipt, you wish to exchange your boot for another pair, you can! No extra cost, no hassle, just simple quick exchange. And no, we do not work for LL bean….
Isn't hunting season coming up? Pair these ultra hip boots with a pair of hand-painted cufflinks from the famous Pierce and Hobbs:
3. Last we have the classic Timberland boot with a twist. Not too street, yet not too rustic, this Timberland boot is a great spin on a classic look. The brown coloring will look great with just about any of this season's sweater colors: grey, mustard, navy blue, and hunter green.
Dress up or down, or even pair this boot with a Pierce and Hobbs hand painted boxer dog cufflink this season.
For more saving tips, style trends, and in-the-know facts, stay tuned to CLM.
Thursday, October 13th, 2011
It's cold, it's warm, it's in between. Then it rains. What is going on with Mother Nature? We get it…fall is here, oh no it's not, oh yes it is.
Our theory is, stay warm when it's cold and stay cool when it's warm. But just in case Mother Nature decides to stay cool today and tomorrow, here are some Italian charms to warm you up:
Couple this scarf with any one of the affordable looks from H&M below:
This season, the mustard color is "in." Try this Italian Mustard and Green Silk/Cashmere designer Scarf:
And for more formal looks, H&M brings you suits to suit your tastes:
And of course, no suit would be complete without cufflinks:
Onyx Stone And Mop Square Cufflinks
Or add some winter white to the sleeve:
Sky Blue Framed Oval Cufflinks