Posts Tagged 'american horror story'
Monday, September 17th, 2012
10 Things to Make You Fall for Fall All Over Again 
Scarves: Yes, scarves of all kinds. Cashmere, cable knit, chunky, orange/red/yellow/blue/gray and the list goes on and on. There's nothing like a fall scarf to complete your cool look and add some accent colors to your light jacket or shirt.
Burning Star Scarf, Made in Italy. Wool, silk, cashmere. 
Boots: Boots were made for walking and that's just what you should do. Take a long hike on a trail, up by the river, or spend a day walking around the concrete jungle just looking stylish.
Whiskey, manhattan, break out the bitters: Ah, yes. The time has come to break out the 25 year aged whiskey and make yourself a Manhattan. So break out the bitters, wrap yourself in a new scarf, and enjoy the cool, long evenings.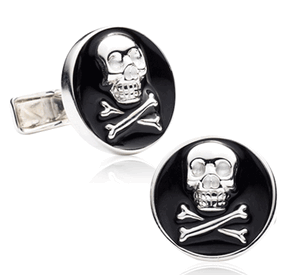 Enamel Skull and Crossbones Cufflinks
The season premiere of American Horror Story: It feels like years has passed since the last episode of American Horror Story. We're still loyally hooked, almost a year later, and the scary fun will begin on October 17th. Are you ready?
Sterling Pumpkin Cufflinks
Doggie Jackets: As much as we like to brush it off as obnoxious, we love seeing those cute little pups in doggie jackets. Sure, they have their own coat straight from God, but why not add a little fall festivity to your dog too? After all, they like a little wrap around scarf too.
Sterling Chihuahua Cufflinks
More to the imagination: Let's face it, beautiful sun kissed skin comes peaking out in the summer months and yes, we love it. But we also like to leave a little to the imagination too. Women look sophisticated, alluring, and extra sultry in the fall, and it has nothing to do with a bikini and suntan lotion. What does she have going on under that peacoat, gray tights, and books?
 Plaids: We look extra rugged in a nice strapping plaid shirt, plus it reminds us of the great outdoors, roasting things over a fire, Octoberfest beer, and fall parties in Brooklyn.
Beards: Nothing say "I'm a man's man" like an overgrown burly beard.
Football Season: Jerseys, fantasy football, beer, and ultra-loaded nachos.
Baltimore Ravens Cufflinks and Tie Bar Gift Set
Hearty Food: Haven't you missed those home beef stews, pumpkin and banana bread, warm milk in the evenings with chocolate, and a nice juicy steak with potatoes? It's all fall food baby.
Wednesday, November 30th, 2011
The psycho-sexual thriller American Horror Story, which premiered this season, has everyone absolutely hooked on Wednesday nights. If you're not one of them, you will be! The show quite brilliantly synthesizes a little bit of everything that appeals to the modern late night American TV viewer: sex and beautiful women, house terror, thrills and suspense, infidelity, ghosts, murder (and more murder), myth making, suburban towns, curses, teenage angst, suicide, psychiatrists gone mad, doctor's wives going mad, drugs, and we're still counting.
American Horror Story revolves around the Harmons, a family of three who moved from Boston to Los Angeles as a means to reconcile past anguish. The creators have Nip/Tuck and Glee have their paws in the creation of this intense new series.
American Horror Story Movie Trailer Official HD by dm_5017cefc6f801
Who is the guy in black latex? What's up with that neighbor or shape shifting/sex crazed maid? What will psycho ex-girlfriend college student dead girl do next? These are the questions that probe all of us watching! Yes, some have been answered, but every week it leaves us wanting more. And for those of you watching, all I can say is, the brain thing?? Whoa.

Gunmetal 1911 Colt Gun Cufflinks
One obvious thing about the show is the acting is superb. A fresh breath of air for all the over-saturated, under budgeted TV shows out there. Jessica Lange's character Constance is chilling, elegant, and completely embodies a deeply troubled Southern mother. Her performance is near perfect in every scene.
Make it an American Horror Story Night with these Popcorn Cufflinks
Frances Conroy who plays the tantalizing maid Moira, was last seen in Six Feet Under, and her traditional soft-spoken, domestic character comes full circle with creepy and haunting consequences. And surprisingly, newcomer to Hollywood Taissa Farmiga, who plays the angst-y independent teenager, is another brilliant feat to the show: her performance speaks volumes for the disembodied youth of America.

Ed Hardy, Love Kills Slowly Cufflinks
So go ahead, turn off the house lights tomorrow (Wednesday at 10pm), sink into your cozy chair, and indulge in this season's hottest show.