Archive for the 'Party Cufflinks' Category
Monday, September 17th, 2012
10 Things to Make You Fall for Fall All Over Again 
Scarves: Yes, scarves of all kinds. Cashmere, cable knit, chunky, orange/red/yellow/blue/gray and the list goes on and on. There's nothing like a fall scarf to complete your cool look and add some accent colors to your light jacket or shirt.
Burning Star Scarf, Made in Italy. Wool, silk, cashmere. 
Boots: Boots were made for walking and that's just what you should do. Take a long hike on a trail, up by the river, or spend a day walking around the concrete jungle just looking stylish.
Whiskey, manhattan, break out the bitters: Ah, yes. The time has come to break out the 25 year aged whiskey and make yourself a Manhattan. So break out the bitters, wrap yourself in a new scarf, and enjoy the cool, long evenings.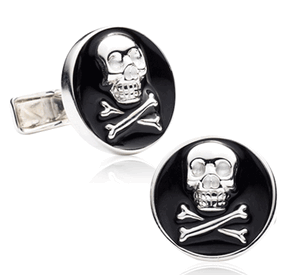 Enamel Skull and Crossbones Cufflinks
The season premiere of American Horror Story: It feels like years has passed since the last episode of American Horror Story. We're still loyally hooked, almost a year later, and the scary fun will begin on October 17th. Are you ready?
Sterling Pumpkin Cufflinks
Doggie Jackets: As much as we like to brush it off as obnoxious, we love seeing those cute little pups in doggie jackets. Sure, they have their own coat straight from God, but why not add a little fall festivity to your dog too? After all, they like a little wrap around scarf too.
Sterling Chihuahua Cufflinks
More to the imagination: Let's face it, beautiful sun kissed skin comes peaking out in the summer months and yes, we love it. But we also like to leave a little to the imagination too. Women look sophisticated, alluring, and extra sultry in the fall, and it has nothing to do with a bikini and suntan lotion. What does she have going on under that peacoat, gray tights, and books?
 Plaids: We look extra rugged in a nice strapping plaid shirt, plus it reminds us of the great outdoors, roasting things over a fire, Octoberfest beer, and fall parties in Brooklyn.
Beards: Nothing say "I'm a man's man" like an overgrown burly beard.
Football Season: Jerseys, fantasy football, beer, and ultra-loaded nachos.
Baltimore Ravens Cufflinks and Tie Bar Gift Set
Hearty Food: Haven't you missed those home beef stews, pumpkin and banana bread, warm milk in the evenings with chocolate, and a nice juicy steak with potatoes? It's all fall food baby.
Monday, July 30th, 2012
Guest Speaker: Lady Speaks A lot
Some of our favorite CLM patrons have been writing to us asking about a list of " core rules every gentleman should follow." Is there anything that every cosmopolitan man should know? Has he been left in the dark about anything while the women of the world are conspiring against him? Any core list of rules that he may or may not be aware of, for which the universe cries, "contend to this!" So we thought we'd take a little break from fashion and the likes, just to bring it back to earth for you. Our guest speaker, Lady Speaks A lot, is a middle aged New Yorker living on the Upper East Side, bent on the following rules. Her motto? "The glass is always half spilled. Normally on my new white dress." Favorite Motivational speaker? Nietzsche. You get the picture…
Advice Fit for the Classy Gentlemen
1. Always well dress up and wear some Superhero cufflink because women's like superheros, and than  get up for a lady on a train/bus/any mass transit. If you are healthy and capable, it's time to get up. Yes, you! Get UP!
Enamel Double Decker Bus Cufflinks
2. Ask women out to dinner. Sound complicated, right? Men have been doing it for decades! No, we don't want to watch a movie at home with you, or just "hang out," or meet at your boys' house, or get completely wasted together. How about start with a simple, nice…dinner.
3. Make a decision. Whether it's to put $5 or $15 in the gas tank, cross on 92nd or 95th, Indian or Chinese, Black dress or green one, help us help you…make a decision. Please don't have us stand there at the convenience store for fifteen minutes while you decide on which kind of gum you want…it's embarrassing.
4. Never, ever, ask the bartender what you should be drinking for the evening. Just order. Vodka or rum. Beer or gin. If you can't decide what to drink for the night, how can we trust you to decide on future house decorations and future children names?
5. Know the original authors of "misshapen forms of well-seeming chaos" and "that which does not kill us makes us stronger." And here's a hint: they're not singers.
Homer Simpson: Not My Fault Cufflinks
6. Know how your lady likes her coffee. Ask once. And remember it always. Don't ask every time you get up to make her a pot.
7. Have a license. If a man can't drive, well…a man can't drive.*
8. Have at least one subscription to something. We don't really know why this is important, but it is. Even if it's Playboy, just order something read-able. Well, actually, no, Playboy isn't acceptable either. Try the Economist or New York Times for starters.
9. Don't drink out of a straw. Ever.
10. Be Kind, Rewind. This also includes Netflix movies, Premium movies on Demand, etc. Because, sometimes you just have to rewind.
*Some of you at home may be wondering what's the deal with number seven. It is actually quite a problem in some parts of the world…like New York.
Tuesday, July 24th, 2012
We all need a little advice once in a while. Here are CLM's 7 Tips to Keeping you Fresh this Summer…
1. Maintain an even skin tone. Remember our previous post about the perfect bronzed look? That's right, not only do you have to keep the skin clear and clog-free from dirt and daily grime, but try to maintain a summer glow too. If you haven't read it yet, click here for 5 Simple Steps to maintaining an all-over glow year round. 
2. During hot summer's mid-day heat, it's important to change your shirt twice a day. You came here to find out about the rules of staying fresh, right? Adhere to this rule gentlemen.
Feeling extra hot and bothered? Let your accessories say the say thing, try our Red Fire Engine Cufflinks for an added spark.
3. Never wear faded, colored tee-shirts or collared shirts (white is even worse!) If you like particular brand of shirt or a color, buy it in bulk. Don't over wear your favorite tee shirt just because you can't get enough of its softness/style. Buy three, of the same kind. And then throw it out when it becomes dingy or over-washed. For extra style points, try our Pink Collared Cufflinks.
4. Ditch the sneakers in 90 degree weather. Or even 80 degree weather for that matter. Nothing is quite worse than seeing a man walking around in the mid day heat with a pair of hot, sticky sneakers on. Get yourself a nice pair of sandals and spend the $30 on a pedicure to make sure your staying on top of your "fresh" game. Even the horses don't completely cover their hooves, so why should you?
5. Exfoliate… like your feet too. This step goes perfectly with advice number one and four and is actually an indispensable rule. Follow it.
1953 Chevrolet Corvette Stamp Cufflinks
6. Regular haircuts. Don't wait until you look like a cave man to make a regular trip to your barber. If you can't get seen by that "special" hair stylist whenever you want, make sure you have a back-up hair stylist. It does a world of difference for your overall fashion effect if you take the time to trim those locks on the regular.
7. And finally, STAY HYDRATED. In these hot summer months, it's important to drink as much water as possible. You can't really over-hydrate. Okay, you can but it's actually really hard to do. Keep your skin fresh and clear, your eyes bright and cheery, and make sure your energy can beat the heat.
Tuesday, June 26th, 2012
We've come a long way in the art of courtship over the centuries. Or have we? It really only comes down to one thing in the end…biology. So it makes sense when this new theme for a dating party arises, and becomes a hit. Or shall we say a hormonal orgy? It's actually a genius idea and CLM sends serious kudos to the "inventor" of such a party: Enter The Pheromone Party.
A new article featured in Askmen.com says the following: "Enter the Pheromone Parties. You sleep in a clean T-shirt for three nights to capture your body's odor, then bring it to a party in a Ziploc bag. Guests smell the bags, which are labeled with a number and nothing more, letting their primal instincts guide their mate selection. The thought of answering "online" when someone asks me how I met my significant other kind of embarrasses me, but "body odor" is a mind f*ck I think a lot of us aren't ready for."
Haven't you ever noticed yourself loving the scent of your lover/wife/husband? Something pulls you to them and you only like their scent. This is totally biological and a necessary part of finding the ideal mate, especially when it comes to body chemistry, reproduction, and the ideal exchange of genetics.
New Spark Plugs anyone? Did you feel it?
So during the course of this kind of party, guests photograph themselves holding the labeled bag with the shirt if they LIKE the scent. This photograph is then projected on a white wall and if the owner if interested, he/she will approach the person in the photograph. Cool, huh? It's kind of like a win-win situation because you're not risking rejection per-say, and it's highly likely that if a person vibes with your scent, you will vibe with their scent as well, plus you get to see a picture of them beforehand.
Creator Judith Prays says the following in a recent interview: "How exactly do pheromones work?
JP: Pheromones are the chemical triggers of sexual attraction in mammals. Pheromones determine fecundity; if you are attracted to someone's pheromones, it is an indicator that you two will have healthy offspring. While not confirmed, it is suspected that males smell availability and females smell genetic quality. "
Thursday, May 17th, 2012
Things to try this season: Fashion Stripes with something not striped (i.e. a striped blue and white shirt with solid bright pants/capris, or with another type of print that stands out.) No socks and loafers.
Why not try a pair of green funky glasses for spring?
Funky sunglasses. Let's face it, you can always take them off. That's one of the best things about subglasses as a spring fashion accessory. It's cool to look cool for a bit, and then switch to the "normal" you in a matter of seconds. Why not try a new color/shape/style? If aviators are your norm, try a pair of larger plastic frames, maybe in a light shade of green.   Love Experiment, but not too much. Dating tip for men: dinner/coffee/cocktail/anything on the water is good for a date.
Money It's okay to splurge a little on new clothes and accessories at the beginning of every season. Just make sure you keep it basic. You have the rest of the season to get the more expensive, ultra-trendy stuff—so for now just keep it simple: plain tees, light fabrics, basic colors, shorts, sandals/loafers/spring shoes.   Sex Hands are important. They don't get enough credit in the romance world. Touch is one of the five senses, so don't forget to use it every way.
Are you a Prince or a Frog? Kiss him and find out.
  If it's not in the kiss, it won't be anywhere else either. That's all.   To Do Go running on a spring day. If your not a big runner, just try it. You may get to really like it, especially if you have a river close by.
Get gelato. Like tomorrow for lunch, maybe. Pay for the person behind you in line. At a drive thru? Pay for the person behind you's meal. Make it a pay it forward kind of day. Make a smoothie for breakfast. It's yummy, you can carry it on the go, and it will make you happy. end of story.
How about a strawberry and banana smoothie?