Archive for the 'Enamel Cufflinks' Category
Monday, September 17th, 2012
10 Things to Make You Fall for Fall All Over Again 
Scarves: Yes, scarves of all kinds. Cashmere, cable knit, chunky, orange/red/yellow/blue/gray and the list goes on and on. There's nothing like a fall scarf to complete your cool look and add some accent colors to your light jacket or shirt.
Burning Star Scarf, Made in Italy. Wool, silk, cashmere. 
Boots: Boots were made for walking and that's just what you should do. Take a long hike on a trail, up by the river, or spend a day walking around the concrete jungle just looking stylish.
Whiskey, manhattan, break out the bitters: Ah, yes. The time has come to break out the 25 year aged whiskey and make yourself a Manhattan. So break out the bitters, wrap yourself in a new scarf, and enjoy the cool, long evenings.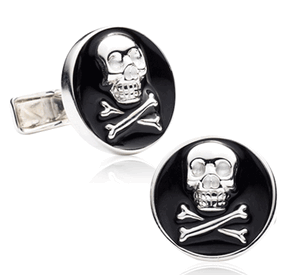 Enamel Skull and Crossbones Cufflinks
The season premiere of American Horror Story: It feels like years has passed since the last episode of American Horror Story. We're still loyally hooked, almost a year later, and the scary fun will begin on October 17th. Are you ready?
Sterling Pumpkin Cufflinks
Doggie Jackets: As much as we like to brush it off as obnoxious, we love seeing those cute little pups in doggie jackets. Sure, they have their own coat straight from God, but why not add a little fall festivity to your dog too? After all, they like a little wrap around scarf too.
Sterling Chihuahua Cufflinks
More to the imagination: Let's face it, beautiful sun kissed skin comes peaking out in the summer months and yes, we love it. But we also like to leave a little to the imagination too. Women look sophisticated, alluring, and extra sultry in the fall, and it has nothing to do with a bikini and suntan lotion. What does she have going on under that peacoat, gray tights, and books?
 Plaids: We look extra rugged in a nice strapping plaid shirt, plus it reminds us of the great outdoors, roasting things over a fire, Octoberfest beer, and fall parties in Brooklyn.
Beards: Nothing say "I'm a man's man" like an overgrown burly beard.
Football Season: Jerseys, fantasy football, beer, and ultra-loaded nachos.
Baltimore Ravens Cufflinks and Tie Bar Gift Set
Hearty Food: Haven't you missed those home beef stews, pumpkin and banana bread, warm milk in the evenings with chocolate, and a nice juicy steak with potatoes? It's all fall food baby.
Tuesday, June 19th, 2012
Ocean City, Maryland
Bahamian Star Fish Penny Hand Painted Coin Cufflinks
By far, Ocean City Maryland is one of the best beaches on the east coast. It's labeled a "family" beach, but gets rocking after hours. The main beach during peak summer months is fairly crowded, but perfect for people watching, especially on the boardwalk, which stretches for a couple miles. On the boardwalk you'll find shops, restaurants, bars, nightclubs, an amusement park, and more. There's, of course, the standard miniature golf places, but the place really boasts the best MARYLAND CRABS and seafood. Check out Hoopers on your way in on the the main bridge and of course, the infamous nightclub/day bar Seacrets. You can drink in rafts all day at Seacrets, get lunch or dinner, and get your fill of tan, youthful bodies.
There's also nearby historic village Berlin and secluded Delaware beaches less than a few miles away.
Siesta Key, FL
Hand Painted Cancer Crab Cufflinks
What to say about this miniature paradise…Siesta Key boasts some of the finest sand in the world, extra white, with bath-temperature like water. It's not a big party town, but it's a perfect little paradise to relax, sip a cocktail, lounge with a loved one, and take a raft out for hours to lay out in the Gulf of Mexico. In the evening, the downtown area has some cool tiki bars with a decent nightlife.
Myrtle Beach, SC
Bardadian Lighthouse Hand Paint Coin Cufflinks
Far Rockaway, NY
One of best aspects of this beach is that it's technically still in New York City. Shocker. Well, we were shocked here at Cufflinksman, because it simply takes about an hour train ride from the Upper East Side in Manhattan and…you're there. A little secret though…once you get off the A train, make a left around one of the blocks to hop on a city bus that takes you (about another 10 minute ride) to a more secluded, public beach called Fort Tilden. It's clean, the water is nice, and you can have lunch on 5th avenue, shop at Barneys, and go surfing all in one day. We told you it's cool to be a New Yorker.
Cape May, NJ

Enamel Lighthouse Cufflinks

Here's what the folks at Fodor's Travel Intelligence had to say about Cape May:

"Sunset Beach. Cape May, the southernmost point in New Jersey and believed to be the oldest beachfront resort in the country, is also a National Historic Landmark. There are many vacation rentals and beaches to choose from here, but one of the most charming is Sunset Beach, walking distance from the Cape May lighthouse. Here you'll find plenty Cape May "diamonds" (pebbles of pure, rounded quartz) that have washed up on the shore, and your kids will love hunting around for them. Be sure to drive—or better yet bicycle—the 3 mi to the south end of Sunset Boulevard for the sunset flag ceremony held from June through September."
Thursday, May 24th, 2012
Cool Things to Do TODAY
Create a happy new playlist on itunes. A mixture of slow jams and dance music to take you on a nostalgic ride.
Download at least one song from your childhood. And make it a good one, like something from an 80s film. Or better yet, go out and buy the vinyl album to really take you back.
The Clash London Calling Album Cover
Clean your bathroom–sounds not so tempting, right? But afterwards, you'll feel good about yourself and home, knowing that you have a clean place to get clean in.
Call an old friend whom you haven't spoken with in over one year. That's right, pick up the phone. Re-kindle…and that's not a new amazon product.
Give yourself a manicure (even if you're a gentlemen). This doesn't mean break out the clear polish men, but sit on the sofa with a file and clippers, and clean up those hands. They are the "second" things people see when they first meet you, after your face of course. It's good to have freshly groomed hands always, unless you're a car mechanic who relishes in the grease all day.
Break out the dusty blender in the kitchen and make a fruit smoothie. Add a little extra to it, like cocoa powder for extra "comfort." It's healthy, energizing, and is a great substitute for a fast food meal.
Add a drop of whiskey to your coffee. Just because it's Thursday.
Visit the humane society and play with the dogs. All dogs go to heaven they say and they remember you for coming to play with them. These little guys and gals rarely get extra love and attention, so why not take a trip to your local shelter and give a couple of canines rub downs.
These dogs weren't born with a silver treat in their mouths…:(
Smile at a stranger. Just one…or ten. Enough so that people still know you're normal and not some creepy stalker guy ogling all the innocent bystanders. Kind of like it pass it forward kind of smile…not bozo the clown kind of smile.
Do 25 crunches. Hey, we're not saying to 100. 25 will get those muscles working just enough to set off some happy endorphines in your brain and maybe even motivate you to do more.
Saturday, March 24th, 2012
What Most Men Don't Do
There are 6 fairly common things that men seem to skip over in their daily routines, leaving them vulnerable to skin problems, bad hygiene, and poor health. Which one or ones are you guilty of? Here are 6 things to add to your everyday or weekly routine to get your health, looks, and body back in order.
Go to the doctors for regular blood work and check-ups (this includes the dentist): Most men think "I only need to go to the doctors when I'm sick." This is not the case–especially if you have medical insurance, quite frankly, there's no excuse not to go. Men need to go to the doctors at least once a year to check their blood (remember, your blood determines your overall physical livelihood). A routine blood work includes checking out your cholesterol, blood pressure, blood sugar, and also looks for potential diseases that can drastically effect your life–you may be pre-diabetic and not know it, you may have high blood pressure and not know it…becoming aware of your ailments helps you take control over your life and prepare for better health. Maybe you should change your diet, cut out sweets all together, or maybe you need antibiotics. Either way, you only have one body, so take care of it.
Medical Stethoscope Doctor Cufflinks
Wash their feet with soap:
Sorry Gentlemen, but letting the shampoo and/or soap from your hairy chest fall onto the slimy shower floor is not "washing your feet." Of course we all know that moist areas harbor the most bacteria, so pay extra attention to your feet. Lt. Dan didn't tell Forrest to change his socks at every stop for nothing! Just like your mother probably reminded you to wash behind your ears, it's also important to clean your feet appropriately and thoroughly using soap (preferably anti-bacterial soap).
Regularly change their sheets:
Dirty sheets harbor bacteria as well, which can ruin your complexion. Especially if you have a lady friend stay over, residue from make-up, hair products, and lotions clog pores and cause break outs. Plus you want to get rid of those microscopic bugs you have around in there (we're not talking bed bugs either, just regular little dudes), including the dreaded dust mites (oh yeah, they're there…).
Sheet White Silk Knot Log Cufflinks
What are the other three habits most men forget to do??? Check back tomorrow…
Friday, March 23rd, 2012
Spring Shades are back and there are some hot new styles to choose from. We've selected three that are contemporary, high-fashion, and will perfectly frame just about any face. Of course you should look up those glasses charts to figure out which shape best suits you, but these will do the job. If they're too pricey, local markets should have knock-off versions for under $20 so you can stock up on them.
The atmosphere of the Mediterranean Island of Capri, Italy, has inspired the Persol Capri Collection. The island's mix of history, events, culture and nature is what has made it beloved by so many artists, intellectuals, writers and aristocrats over the years. Every handcrafted detail of this havana frame symbolizes the distinctive architecture of Casa Malaparte, known as the 'red arrow at the horizon.' Lenses are crystal green. The new Persol Capri Collection is a must-have masterpiece of art.
Mix the glasses up with these hand-made glass cufflinks:
Blue Mussel Handmade Lampwork Glass Cufflinks
MAUI JIM, 238 PAU HANA: $299
No matter your lifestyle, Pau Hana blends fun and fashion. Perfect for those who desire smaller sunglasses, this new style by Maui Jim has a tortoise green frame with green, mirrored, polarized lenses. Maui Jim's PolaralizedPlus®2 lens technology wipes out 99.9 percent of glare and blocks 100 percent of harmful UV rays. Plus, you'll see color like you've never seen it before. Sport this round style on the street or on the beach!
This unique print is inspired by themes that represent the essence of Ray-Ban's history and style. The Ray-Ban Color Block print was influenced by the pop art style of Mondriaan. Using the same shape and style introduced in the '60s, the brown Wayfarer with brown, polarized lenses will get you noticed.