Archive for the 'Black Cufflinks' Category
Thursday, November 7th, 2013
Interesting Places to Take Your Date

We've all been there–combing through old memories of restaurants, venues, and music spots, searching for just those that are appropriate places to take your new "friend." It must be suave, thoughtful, classic–not an evening at Shake Shack and the local AMC.
How can you get creative amidst a city with every possibility fathomable? Expectations are high and economies are tight. Sometimes a little planning and brainstorming will do just the trick to woo the one you're pining after:
Fight or flight. Indulging in a good bourbon or whiskey can be a hit or miss, depending on how aggressive you want to get (pun intended). Try taking your special friend to a Whiskey Bar for a Flight Sample. For under $100, you can indulge in a whiskey sampler that will ensure a few hours of intimate conversation and sultry evening glances.
The cool thing about it too, is even if the date doesn't work out, you'll still have high-end, select bourbons and whiskeys to add to your palate. "Have you ever tried…?" is a great conversation starters in the "real world," including bartenders, new dates, and bourbon connoisseurs everywhere.
TIP: Try Beekman Bar and Books:
BAR AND BOOKS
889 1st Avenue
@ 50th Street, New York 10022
Tel.: 212 758 6600
Not your everyday collection. Instead of taking your date to that over-saturated art gallery with hordes or tourists, try to switch it up a bit this fall season. Museums with rotating collections are best, because you always know that you are one of the limited few that will get to glimpse _____.
TIP: Try Museum of the City of New York. It features 19-20th century memorabilia. "Today the Museum's collection contains approximately 750,000 objects, including prints, photographs, decorative arts, costumes, paintings, sculpture, toys, and theatrical memorabilia."
Fall picnic at the park. Bring along the following essentials: two types of gourmet cheese–one hard/ one soft, maybe one with truffles, one without, etc, a bottle of French red wine, a loaf of ciabatta bread, one blanket, checkered red and white napkins, a pre-programmed iPod with classical music, a Robert Frost poetry book, and a canister of Apple Cider (optional flask of bourbon to accompany).
Don't forget the Picnic Blanket…
Pick your ensemble carefully–focusing on autumnal tones like deep red and navy, orange and green. Think wool sweaters, jewel-toned beanies or old fashioned driving hats, and don't forget the suspenders.
TIP: Try a fragrant garden in the park somewhere, under an Oak or Willow tree. Finding random eucalyptus and pine trees always a plus. Bring binoculars for bird watching and a .PDF of any bird watchers book.
Monday, June 17th, 2013
Black is back as a top color in the fashion world. Actually, it never really went away. Other colors tried to come in and take black's place, but they didn't make much of a splash. Brown even tried to change its name to "chocolate" in order to make a bigger impression. But the simple fact is that black will always be a popular color choice for fashion designers. It will never go out of style because it goes with everything. You can practically match black with any color, which makes it incredibly hard to compete with. And the design trend of combining black and white styles is hotter than ever. From complete ensembles to finite accessories such as cufflinks, men's fashion will always include the color black.
It's a modern and sleek color that can make even the simplest of cufflink designs stand out. We carry an incredibly wide assortment of Black Cufflinks to choose from, including these exceptional Round Screw Cufflinks. The reason these cufflinks are considered timeless is because they will never go out of style. The smooth black face paired with the sterling silver backing offers a "timeless" look that will last a lifetime. Black Cufflinks are essential for every cufflink collection, whether you own just a few staple pairs or you own more cufflinks that ties. Take a look at our selection of Black Cufflinks and add a few new pairs to your overall collection. Your sense of style will thank you.
Wednesday, February 13th, 2013
Cufflinksman Speaks…
-Surprise her with a gift card to something you know she loves (like Starbucks?), get her a copy of your favorite book (so she'll think of you while reading), or burn her a CD of your favorite tunes (same concept here). Tie each with a red ribbon and then go out for a drink with tapas. (It says 'casual'). Buy her at least two glasses of wine, and then see where the night takes you…
Monday, September 17th, 2012
10 Things to Make You Fall for Fall All Over Again 
Scarves: Yes, scarves of all kinds. Cashmere, cable knit, chunky, orange/red/yellow/blue/gray and the list goes on and on. There's nothing like a fall scarf to complete your cool look and add some accent colors to your light jacket or shirt.
Burning Star Scarf, Made in Italy. Wool, silk, cashmere. 
Boots: Boots were made for walking and that's just what you should do. Take a long hike on a trail, up by the river, or spend a day walking around the concrete jungle just looking stylish.
Whiskey, manhattan, break out the bitters: Ah, yes. The time has come to break out the 25 year aged whiskey and make yourself a Manhattan. So break out the bitters, wrap yourself in a new scarf, and enjoy the cool, long evenings.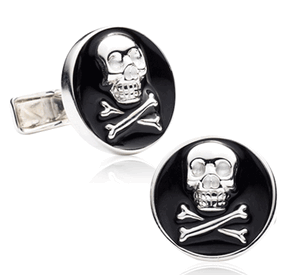 Enamel Skull and Crossbones Cufflinks
The season premiere of American Horror Story: It feels like years has passed since the last episode of American Horror Story. We're still loyally hooked, almost a year later, and the scary fun will begin on October 17th. Are you ready?
Sterling Pumpkin Cufflinks
Doggie Jackets: As much as we like to brush it off as obnoxious, we love seeing those cute little pups in doggie jackets. Sure, they have their own coat straight from God, but why not add a little fall festivity to your dog too? After all, they like a little wrap around scarf too.
Sterling Chihuahua Cufflinks
More to the imagination: Let's face it, beautiful sun kissed skin comes peaking out in the summer months and yes, we love it. But we also like to leave a little to the imagination too. Women look sophisticated, alluring, and extra sultry in the fall, and it has nothing to do with a bikini and suntan lotion. What does she have going on under that peacoat, gray tights, and books?
 Plaids: We look extra rugged in a nice strapping plaid shirt, plus it reminds us of the great outdoors, roasting things over a fire, Octoberfest beer, and fall parties in Brooklyn.
Beards: Nothing say "I'm a man's man" like an overgrown burly beard.
Football Season: Jerseys, fantasy football, beer, and ultra-loaded nachos.
Baltimore Ravens Cufflinks and Tie Bar Gift Set
Hearty Food: Haven't you missed those home beef stews, pumpkin and banana bread, warm milk in the evenings with chocolate, and a nice juicy steak with potatoes? It's all fall food baby.
Wednesday, April 25th, 2012
You can't possibly start spring without the proper fashion–and that's where we come in. We have hand selected two spring looks with one of the hottest runway trends: red pants. This uni-sex look is all the rage and different fashion houses are coming up with their spin on the coveted red pant. You can go for a more sophisticated look with Look One, or a laid back/punk style red pant style in Look Two.
Look One:
Asos
$44.76, available at asos.com
Performance Deck Shirt by Nautica, $49
Sterling Blue Nautical Compass Cufflinks
Finish off the look with a laid-back blazer for spring, like this one by H&M. The Blue Nautical Cufflinks add to the whimsical look and add a touch of reality to the would-be outlandish red pants.
H&M Blazer, $59
Look Number Two:
The next look is a quirky/punk spin on the red pant look. Couple it with some Skull Cufflinksa nd you'll be ready to rock in spring in style. The Lamb & Flag pants were found on gq.com's fashion report and are a part of a stellar collection of spring pants. H&M's striped shirt accompanies the look, adding a nautical touch to the otherwise street savvy style.

Lamb & Flag
$58, available at lambandflag.com.
Skull and Crossbones Cufflinks
Use this song by The Mamas & The Papas for inspiration when dressing and picking out your new spring accessories:
What are the deets? Striped shirt in soft jersey with 3/4-length sleeves. 100% cotton. Machine wash warm. Imported.
Black Liquorice Candy, Onyx Striped Cufflinks