Archive for September, 2012
Thursday, September 20th, 2012
Fictional characters have a great influence in our lives. They unconsciously dictate morales, mannerisms, who we are attracted to, lifestyle choices, and…in our case, fashion. So we've decided to feature some of those influential fictional characters on our blog. First up on the list?
Tyler Durden
"All the ways you wish you could be, that's me. I look like you wanna look, I f*ck like you wanna f*ck, I am smart, capable, and most importantly, I am free in all the ways that you are not. "


Primary Mondrian Cufflinks by LOMA L2
"It's only after we've lost everything that we're free to do anything. "
Gold Metal Collar Pin, Window Bar Style
"I can't get married – I'm a thirty-year-old boy. "
Duren has that rough around the edges, I'm cool whether I wear a shirt or not, rugged, dirty appeal that men seem to want to emulate. His 70s flair, which consists of print shirts with oversized collars, aviator shades, vintage leather jackets, all amount to one word: stylin'. Of course, add to that a couple of scars, bruises, and one serious over confidence complex and you have Tyler Durden. Who wouldn't want him as an alter-ego?
Tyler Durden in Fight Club (Brad Pitt)
Orange Retro Paisley Cufflinks
Stay tuned for more of your favorite STYLE ICONS. Tomorrow who will it be? Can you guess?
Tuesday, September 18th, 2012
What You Should Never Brag About in Front of Women
Your hunting skills, i.e. how you shot down a deer from a 50 ft range, etc: The idea of dead animals just gives women the creeps and killing innocent little forest runners for the 'sport' of it is not only horrifying, but also a big turn off. Leave your 'gun' and 'bambi' conversation (and pictures!) at the door.
Your fighting skills: True, women love a protector in a partner, someone who will stick up for them in the face of danger, but that does not mean how many guys you've drunkenly battled with at bars, how many 'asses' you've kicked, and how great your upper cut is.
Notre Dame Fighting Leprechaun Cufflinks
The size of your manhood: Because everyone knows it's all about how you "carry" yourself, not how you talk about yourself. Don't even TALK about it, just smirk and let them wonder.
What You Should Brag About in Front of Women
Your cooking skills: It diminishes the negative line of gender role exclusivity and shows that you are comfortable working in the kitchen. It also shows your love of sating/providing for others in new ways. Let's face it, you don't go out to hunt for food anymore (as a society, we're passed that, at least in certain ways), so why not tackle that chicken in the kitchen, sauté it in your grandmother's sauce, and don't forget the garnishes.
Chefs Hat and Spoon Cufflinks
Your strong magic fingers (for massage purposes of course!): It will implant the idea of skin/touching/feeling in her mind, which inevitably leads to other strains of thought. Plus it's always a 'plus' when you can administer a great massage with your strong hands.
Sterling Silver Peace Sign Hands Cufflinks
Your grandmother: It shows that you appreciate the women in your life and honor their presence, even if they are no longer around. It shows respect, reverence, and an ultra sweet side that women love to witness. Plus women get all warm inside when you discuss other your admiration for your old grannie, and for bonus points, how much you love your precious little niece can also be thrown into the mix.
Monday, September 17th, 2012
10 Things to Make You Fall for Fall All Over Again 
Scarves: Yes, scarves of all kinds. Cashmere, cable knit, chunky, orange/red/yellow/blue/gray and the list goes on and on. There's nothing like a fall scarf to complete your cool look and add some accent colors to your light jacket or shirt.
Burning Star Scarf, Made in Italy. Wool, silk, cashmere. 
Boots: Boots were made for walking and that's just what you should do. Take a long hike on a trail, up by the river, or spend a day walking around the concrete jungle just looking stylish.
Whiskey, manhattan, break out the bitters: Ah, yes. The time has come to break out the 25 year aged whiskey and make yourself a Manhattan. So break out the bitters, wrap yourself in a new scarf, and enjoy the cool, long evenings.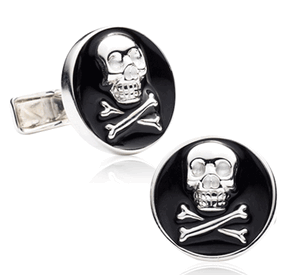 Enamel Skull and Crossbones Cufflinks
The season premiere of American Horror Story: It feels like years has passed since the last episode of American Horror Story. We're still loyally hooked, almost a year later, and the scary fun will begin on October 17th. Are you ready?
Sterling Pumpkin Cufflinks
Doggie Jackets: As much as we like to brush it off as obnoxious, we love seeing those cute little pups in doggie jackets. Sure, they have their own coat straight from God, but why not add a little fall festivity to your dog too? After all, they like a little wrap around scarf too.
Sterling Chihuahua Cufflinks
More to the imagination: Let's face it, beautiful sun kissed skin comes peaking out in the summer months and yes, we love it. But we also like to leave a little to the imagination too. Women look sophisticated, alluring, and extra sultry in the fall, and it has nothing to do with a bikini and suntan lotion. What does she have going on under that peacoat, gray tights, and books?
 Plaids: We look extra rugged in a nice strapping plaid shirt, plus it reminds us of the great outdoors, roasting things over a fire, Octoberfest beer, and fall parties in Brooklyn.
Beards: Nothing say "I'm a man's man" like an overgrown burly beard.
Football Season: Jerseys, fantasy football, beer, and ultra-loaded nachos.
Baltimore Ravens Cufflinks and Tie Bar Gift Set
Hearty Food: Haven't you missed those home beef stews, pumpkin and banana bread, warm milk in the evenings with chocolate, and a nice juicy steak with potatoes? It's all fall food baby.
Sunday, September 16th, 2012
It was reported a few days ago by  various online news venues that Captain, a German Shepherd in Argentina, has refused to leave the site of his master's grave, even after six years following his death.
Sterling Silver Dog Treat Cufflinks
Talk about loyalty and love! His owner, Miguel Guzman, died in 2006, and he still sits guarding over his grave after all these years. Captain originally ran away from home shortly after Miguel's death and the family did not know where he ran off to. They assumed he was struck by a car or completely lost in the world. Turns out, he made his way to Miguel's grave, even though he's never been there before. 
Hand Painted Labrador Dog Cufflinks
As it turns out, little loyal Captain, could somehow sense the exact location of Miguel's grave. He was taken home by the family, but again he returned in the evening to keep watch over the grave.
Sterling Silver Service Dog Cufflinks
Everyone should experience such love and loyalty. And remember dear readers, DOG is GOD spelled backwards. Enjoy this beautiful fall day!
Friday, September 14th, 2012
Smaller, taller, faster, lighter than ever
Pricing and Availability:
The 16GB is $199, the 32GB $299, and the 64GB $399. On September 21, it will go on sale in nine countries: the United States, Canada, the United Kingdom, Germany, France, Australia, Japan, Hong Kong, and Singapore. Anyone in that first batch of countries can pre-order starting this Friday, September 14. More countries will follow by the end of this month and by the end of the year, the iPhone 5 will land at 240 carriers in 100 countries.*
Available in Black and White shades
What are the specs?
Taller & thinner with a metal back:
It takes the record for the thinnest smart phone on the market (as of right this second, if course!) and is 20% lighter than the previous iphone.
Total resolution is the same as the 4s, however.
Cnet says that "Apple also promises that wide-screen movies will look better with 44 percent more color saturation than the iPhone 4S.
Touch sensors are now built into the display itself, which makes it 30 percent thinner as a result and less prone to glare."
The metal back, as opposed to the glass back, makes it less prone to breaking.
LTE and carriers
Cnet says that it's "not a shocker either, but the iPhone 5 will support 4G LTE networks. That's in addition to the current support for GPRS, EDGE, EV-DO, and HSPA data networks. LTE has a single chip for voice and data, a single radio chip, and a "dynamic antenna" that will switch connections between different networks automatically."
A faster chip
Making graphics load faster, the chip is 2x faster than the previous one, and is 22% smaller.
More battery life
It allegedly has 8 hours of 3G talk time, 8 hours of 3G browsing, 8 hours of LTE browsing, 10 hours of Wi-Fi browsing, 10 hours of video playback, 40 hours of music playback, and 225 hours of standby.
Camera
Same megapixel (8), but it has backside illumination, a hybrid IR filter, a five-element lens, and a f2.4 aperture. A dynamic light mode is new, and you should be able to launch photography apps up to 2.1 times faster.
Video
Video resolution remains at 1080p HD, though image stabilization has been improved and face detection is possible for up to 10 people. The secondary front camera now can shoot 720p HD video with a backside illuminated sensor.
Apple Ear Bud Cufflinks
Microphone
The iPhone 5 gets an additional microphone for a whopping total of three. There is one on the bottom, one on the handset's front face, and one on its rear side.
iOS 6
iPhone 5 will debut with iOS 6 already on board. Highlights include the new Apple Maps app, Passbook, shared photo streams, Siri updates, and the aforementioned FaceTime over 3G.
 *Info taken from Cnet.com Reviews